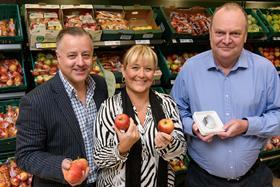 A Kent shopper has won an Apple watch in a competition to name a new locally-grown apple variety marketed by Avalon Produce.
The apple, due to be exclusively stocked in Tesco next year, has been christened 'Kentish Kiss' by Jacqui Lalley, who won the competition run by Tesco Extra in Gillingham, in partnership with Avalon.
Chosen from hundreds of entries, the new name was selected by Tesco technical manager and apple master John Worth and Avalon Produce chief commercial officer Michael Joyles.
Worth said: "On behalf of Tesco and Avalon Produce I would like to congratulate Jacqui on her win which, I'm sure, is a great honour. I hope she is looking forward to seeing the 'Kentish Kiss' in stores as much as we are."
Joyles added: "We are absolutely delighted with the name Kentish Kiss, which is perfect for the new apple variety. We hope Jacqui enjoys her new watch and would like to thank her for her creative entry."