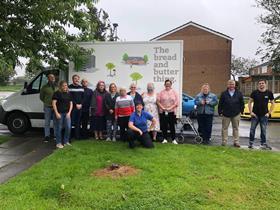 Community charity The Bread and Butter Thing (TBBT) has agreed a new redistribution partnership with Worldwide Fruit.
Following a successful summer pilot, the two organisations have come together to ensure that Worldwide Fruit's surplus produce is used to feed families in deprived communities across the north of England and beyond in a collaboration that will see thousands of tonnes of fruit saved each year.
Every year, Worldwide Fruit has surplus - from apples and pears to peaches, plums, nectarines and avocados - which it has previously struggled to redistribute at scale due to the logistical complexities of pallets, punnets and trays.
However, working with TBBT, it has already redistributed over 653,00kg since June, representing more than 350,000 pieces of fruit.
Andy Mitchell, senior technical manager at Worldwide Fruit, said: "Worldwide Fruit has always been determined to reduce its quantities of edible surplus that go to waste, but we needed a redistribution partner that could work flexibly with the complex logistics of off-hiring and returning literally thousands of trays.
'In order for Worldwide Fruit to maximise its own sustainability and productivity, we constantly reuse our delivery trays, so their return is operationally critical. The Bread and Butter Thing came up with a simple but effective solution."
Mark Game, chief executive of The Bread and Butter Thing, added: "Our solution was to take over the hire and return of the trays. That sounds simple but most redistributors can't operate that flexibly.
'As The Bread and Butter Thing is a business-to-consumer model redistributing food direct to our members, this means that our logistics chain is end to end, which allows us to mitigate challenges which would be impossible elsewhere. The trays never leave our ecosystem so it's easy for us to control."