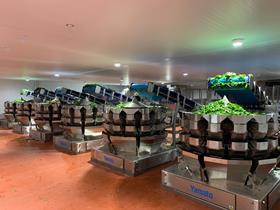 Global weighing equipment manufacturer Yamato has teamed up with UK fresh-cut supplier Natures Way to create the largest salad production facility in Europe.
The project will enable Natures Way to meet rising demand from retail customers and showcase Yamato's ability to deliver bespoke manufacturing solutions for every production line, the companies said in a press release.
Yamato Scale Dataweigh today (22 July) announced it has completed the installation of bespoke multihead weighers and checkweigher / metal detector combi machines for Natures Way Foods at its Selsey plant in West Sussex, making it the largest bagged salad factory in Europe.
Natures Way Foods is a leading manufacturer of fresh convenient food to major UK supermarkets and food services companies. Its customers include Tesco, Sainsbury's, Morrisons, Aldi and Greencore Group.
Due to a continued rise in demand for its fresh bagged salads, Natures Way has continued to invest and, in particular, to extend its factory in Selsey with the installation of 15 new production lines – nine in 2018 and another six in 2021.
Natures Way Food's Selsey-based salad facility now has a total of 25 production lines, 23 of which use Yamato multihead weighers (8 Sigma and 15 Omega series) and 25 with Yamato checkweigher/metal detection combi systems (19 of the I-Series machines and six existing G-Series). The six existing G-Series are being replaced with new I Series in June 2021.
The equipment, which was commissioned in January 2021, will help Natures Way grow its capacity and reputation as a specialist supplier of bagged salads, leafy salad bowls, and food-to-go products, the firm said.
Yamato Scale won a competitive tender for the project by proving its ability to adapt and provide bespoke industry-leading multihead weighers, checkweighers and inspection equipment ideal for fresh produce manufacturing, and, crucially, its commitment to the provision of exceptional after-sales support.
Nick McLaren, Yamato's product manager for inspection equipment and regional sales in the south of England, said: "We are delighted to be working with Natures Way. The company has exceptionally high standards with regards to product quality and meeting its customers' needs. Our I-Series checkweigher combis are highly sensitive making them ideal for the efficient and safe production of salad and fresh foods, by preventing product damage and minimising waste.
"We've worked with Natures Way before, and we know them well, so we were able to understand the intricacies of what they need. We utilised spinning top cones on the multiheads so they could handle watercress and rocket, which are notoriously difficult and like to bind together. Better control of the product reduces wastage and ensures the accurate weighing of smaller proportions.
"At the same time, we ensured that the equipment exceeded supermarket and regulatory codes of practice. This included additions such as RFID login on the checkweighers."
Peter Jones, site facilities manager for Natures Way Foods, said: "We were impressed by Yamato's ability to offer us a bespoke package including multihead weighers, checkweigher/metal detector combis, OEE, camera monitoring systems, commissioning, spares and service equipment.
"Yamato offers good value for money; the equipment is accurate and easy to use – and fits with our operating criteria. Additionally, the Yamato team has expansive knowledge within the food industry and has the customer's interest as a priority.'
Yamato Scale specialises in the provision of technologically advanced weighing and checking equipment for the food processing industry.