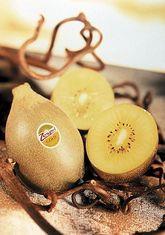 Zespri chairman Greenless said the organisation now "aims to seek and seize new opportunities to leverage its exclusive range of branded products and unique intellectual property.
"We're on track to fulfil the promise of becoming a year-round marketer and supplier of a differentiated range of kiwifruit products by extending the Zespri system to enable a continuous cycle of profitability," he told grower-shareholders at the company's agm in Tauranga on August 14.
Shareholders were already in buoyant mood as they celebrated the achievement of a fifth consecutive record result.
Zespri reported NZ$860 million (£310.5m) in net sales revenue for 2002-03 to deliver 100 per cent growth in net profit after tax and intends to pay a fully imputed dividend of 20 cents per share ñ an after tax return on the original $1.20 share price of 16.7 per cent.
However, Greenlees also warned against complacency. He told growers that the marketplace would become increasingly challenging. The answer is consolidation to strengthen Zespri's competitive advantages of integrated production and marketing structure with its single point of exit and entry.
"The board and executive are committed to devising and implementing the appropriate business strategies that will build on the gains we have made over the past five years so that Zespri, which is recognised by customers as having a world-class system that they can have confidence in, continues to be the kiwifruit marketer of choice," added Greenlees.
"- Those people who think you can prosper through fragmenting and dividing little pieces of the cake up along the supply chain are not facing up to the realities of the global marketplace where customers can - and do - demand that suppliers continuously lift the bar to be a full category manager."
Zespri also reported that sales to date for 2003-04 are "tracking well" and the first monthly forecast of supplier returns is due to be published at the end of August. But the strengthening of the New Zealand dollar will have some adverse impact on end of season results, although Zespri's currency hedging policies are expected to mitigate some of the effects.