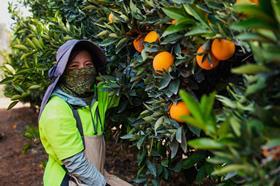 The Australian federal government has announced the highly sought-after agriculture visa will be in place by the end of September.
Leader of The Nationals and deputy Prime Minister, Barnaby Joyce, along with deputy leader of The Nationals, David Littleproud said they were proud to deliver the ag visa for Australia's horticulture industry.
"The agriculture visa delivers what so many primary producers are crying out for," said Joyce. "It will give regional Australia the workers they need to get produce to plate in Australia, as well as our export markets.
"The agriculture visa will be in place no later than 30 September this year, with the full implementation of this demand-driven visa complete within 3 years."
The visa will be open to applicants from a range of countries and will be available to skilled, semi-skilled and unskilled workers. It will include meat processing, fisheries and forestry sectors, and provide a basis for the ongoing growth of our primary industries.
Minister Littleproud said the agriculture workforce shortage has been a major issue during the Pandemic.
"While our farmers and industries have gone about their work keeping Australians and the world fed and clothed, they have done so under workforce constraints," explained Littleproud.
"This is a structural change to the agricultural workforce. It gives our farmers a confidence to plant a crop and know that they'll be able to get it into the supply chain.
"It will complement the Pacific programmes we have got in place but also provide a pathway to permanent residency."
Visa welcomed by industry
The Australian Fresh Produce Alliance (AFPA), which has consistently called for the introduction of a dedicated agriculture visa, has celebrated the announcement made today, with chair Anthony Di Pietro commenting the new visa would deliver another important pathway for growers to tap into a returning workforce.
"It's pleasing to see that the new Australian agriculture visa seems to have taken into account that the agriculture sector has a variety of different workforce needs and is looking to accommodate all of these," said Di Pietro.
Ausveg, the peak industry body for vegetable and potato growers, also welcomed the announcement, with chief executive Michael Coote remarking it was a step in the right direction.
"The announcement is welcome news for vegetable and potato growers and a positive sign that the government is willing to listen to industry and work to deliver practical solutions to the industry's significant labour shortages," Coote said.
"Ausveg has been calling for an Agriculture Visa for many years to address the industry's worker shortage and to help ensure that fruit and vegetable businesses can access a reliable and efficient workforce.
"We now need countries to partner in the visa so that we can start bringing in workers from our neighbouring countries, which will not only help our businesses, but workers and their communities significantly affected by the economic impacts of the pandemic."
Challenges remain
While the government's announcement has been welcomed by the industry, many remain cognisant of the challenges ahead.
"Industry still faces the ongoing challenge of quarantine capacity, where the number of quarantine spaces doesn't match industry's need," noted Coote. "We urge state and federal governments to work together to come to a solution as we fast approach our peak demand period.'
Di Pietro echoed Coote's sentiment, adding; "Queensland and Tasmania have led the way in supporting the agriculture industry with quarantine arrangements and capacity, including on-farm quarantine, to support the arrival of workers from the Pacific.
"Now that we have an agriculture visa and expansion of the Pacific programmes, we need all states and territory governments to work with industry to develop quarantine solutions."