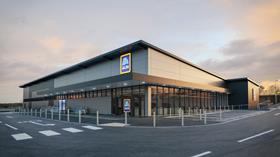 Aldi Australia has pledged to make a number of sustainability changes in its stores as it aims to remove a quarter of all plastic packaging from its range by 2025.
The company has made a number of commitments to achieve this, includingactively reducing the amount of plastic packaging in its fresh produce range and transitioning to more sustainable alternatives while providing no increase in food waste.
Other undertakings include phasing out single-use plastics such as straws and cotton buds by the end of 2020, reducing the use of difficult to recycle black plastic packaging.
To improve sustainability Aldi Australia said it will reformulate the packaging on its exclusive brands to be 100 per cent recyclable, reusable or compostable by the end of 2025 and has committed to include 30 per cent recycled materials across all plastic packaging in the same time period.
"It is our ambition to reduce the amount of plastics in our stores, while in parallel stimulating Australia's circular economy, ensuring that our business partners have commercially viable packaging options to reduce their reliance on virgin materials," said Oliver Bongardt, managing director of buying at ALDI Australia.
"Despite our desire, and that of our customers, to remove plastics immediately, this process will take years not weeks. Today's announcement is to clearly demonstrate that we are completely invested in the important journey of reducing waste and we stand committed to quantify our progress over the coming years."
This announcement comes after Aldi said it would extend a trial of removing plastic from fresh vegetables in the UK.