WA Farm Direct's Jenny Mercer wins Marketer of the Year Award while Ann Lyster receives Women in Horticulture Award and Murray Collins wins Grower of the Year Award.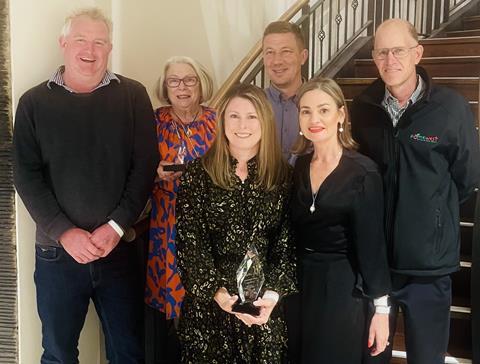 The 2023 APAL Awards for Excellence were held in Melbourne on 1 June acknowledging some of the Australian apple and pear industry's great contributors and achievements.
Among the list of winners was Jenny Mercer, managing director of WA Farm Direct who received the APAL Marketer of the Year Award; Ann Lyster, Fruit West Cooperative chair and Lyster Orchards director, who received the APAL Women in Horticulture Award; and Murray Collins of Collins Bros Orchards who received the APAL Grower of the Year Award.
The APAL Marketer of the Year award recognised Mercer's expertise and dedication in driving the Bravo and Soluna apple marketing campaigns, increasing brand visibility, and effectively communicating the unique qualities of Australian apples. Her approach contributed to expanding the market reach of Bravo and Soluna apples and elevating the reputation of WA Farm Direct as a leading player in the horticulture industry.
Mercer said her collaborative approach fostered strong relationships with her team at WA Farm Direct, industry partners, retailers, and growers, further strengthening the position of Australian apples in the domestic and international markets.
"I am deeply honoured to receive the APAL Marketer of the Year award," said Mercer. "This recognition is a reflection of the collective effort of our team at WA Farm Direct and the support of our ANABP 01 growers. It is a privilege to work with such a remarkable team that is dedicated to delivering exceptional Australian apples to consumers across the globe."