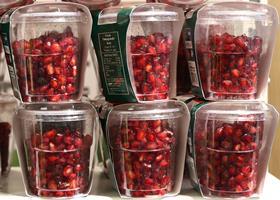 India's pomegranate industry is looking forward to the opening of the Australian market in 2020. Australia's Department of Agriculture and Water Resources (DAWR) released a draft import risk analysis (IRA) for fresh whole Indian pomegranates as well as processed arils on 18 October, recommending imports of both products be allowed subject to certain conditions.
For whole fruit, the IRA identified 14 pests of concern, with a range of control measures proposed to reduce the risk of those pests arriving in Australia. In the case of fruit flies, area freedom or cold treatment or irradiation of fruit is proposed. For bacterial blight, area freedom or a systems approach approved by DAWR are the recommended methods.
The IRA also highlighted fruit flies as a concern for fresh pomegranate arils, with area freedom, a systems approach or fruit treatment (such as irradiation) the proposed methods of reducing these risks.
The public consultation period for the draft IRA is due to expire on 17 December 2019, and industry sources, both within Australia and India, are confident access will be granted midway through 2020.
As one of the world's largest pomegranate producers, India is hopeful of developing a good business in Australia. India produced more than 2.2m tonnes in 2015/16, according to government estimates. While the domestic market consumes the vast majority of production, exports reached almost 50,000 tonnes in 2018, according to Indian customs data. The UAE and other markets in the Middle East absorbed the bulk of exports, but Europe was also a key market, taking almost 10 per cent.
Besides low labour costs, one of India's key advantages as a producer is its capacity to supply fresh fruit as well as arils year-round, according to Kaushal Khakhar, CEO of Kay Bee Exports. "Indian fruit also has high yield for arils. The arils make up more than 50 per cent of the total weight of the fruit," noted Khakhar. "This not only makes Indian pomegranates good value for money for the end-consumer of whole fruits; it also makes Indian arils processed at source very competitive."
INI Farms, another leading Indian packer-exporter, says October to April is the peak period for production. This should complement Australia's season, which tends to peak between April and September. Managing director Pankaj Khandelwal said INI is excited about the opportunities for its fresh-cut arils, which are already shipped to neighbouring New Zealand, and have been building a strong following in European markets.
Khakhar shares his optimism: "Australia already produces pomegranates and consumption is increasing, so I do see good potential for us as counter-seasonal suppliers. From what I gather, the US is the only supply country with access [to Australia] at the moment, so we should be able to do some good work to grow the market there."