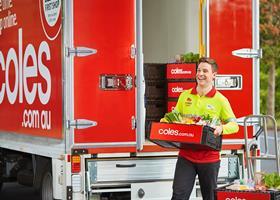 Australian retailers Woolworths and Coles have resumed and expanded their online delivery services after the coronavirus (Covid-19) pandemic caused disruptions.
A surge in demand and panic buying at the start of the pandemic forced both companies to temporarily suspend online shopping, but now consumers have access to the services again.
Brad Banducci, chief executive of Woolworths, told Skynews the retailer had not been able to cope with the initial surge in e-commerce activity.
'The last three months have been like three internet years in terms of digital engagement more broadly and then e-commerce specifically and within that home delivery,' Banducci said.
'As I stand here today (3 May) we have twice the home delivery capacity we had before the crisis and that has happened in the very short space of nine weeks, which has been an incredible team effort.'
In addition to the increased capacity across Australia, Woolworths has established a new pop-up delivery hub in Melbourne, which is expected to service more than 5,000 orders each week.
Woolworths has also partnered with Uber to increase its delivery capabilities, starting with three stores in Queensland. The service, which will see Uber drivers deliver online orders pickedin-store, is set to expand to more stores in May.
Karen Donaldson, general manager of Coles Online and Strategic Projects, said Coles had also adjusted its supply chain to be able to cope with the demand for online shopping.
"By reorganising our delivery windows we have been able to increase the number of slots available for customers, and we have also recruited hundreds of extra customer service agents to help us meet increased demand for Coles online deliveries," Donaldson said.