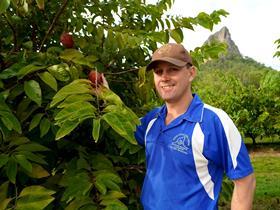 Australian fresh produce growers are set to share their stories on national television.
Research and development corporation Hort Innovation has inked a sponsorship deal with Network 10's My Market Kitchen programme.
Fruit, vegetable and nut producers will feature in 12 segments, airing from this Friday (26 June) until September.
The popular afternoon show will showcase the research-driven innovations and practices that growers use on farm to deliver fruit, vegetables and nuts to plates and lunchboxes across Australia.
Hort Innovation's research and development manager and accredited dietitian, Jemma O'Hanlon, will also incorporate the featured growers' produce into her recipes on air.
"This is a strategic partnership because we want to build and re-enforce the connection between Australian consumers and their growers. It's about connecting people with growers and the fresh produce that ends up on their plate, to enhance both physical and mental health," said Hort Innovation chief executive Matt Brand.
"It's also a great chance to see Australian-led innovations and how growers use them on a day-to-day basis. We hope the end-result is that people want to eat more fruit, vegetables and nuts."
Daniel Jackson is one of the growers featuring on the programme. Jackson said he is excited to share his passion for producing custard appleswith viewers across Australia.
"One of our projects funded through Hort Innovation include the custard apple elite varietal trial," Jackson explained. "We are trying to define species that grow better than others. We are looking at different coloured or shaped fruit, seedless fruit, as well as nutrition and water development. We are sharing the information amongst growers, trying to identify what growers are doing differently."