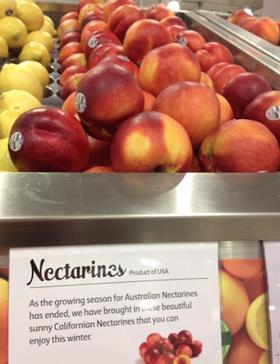 Australian consumers munched through 31 per cent more imported fruit in 2014 compared to 2013 as consumer demand for out-of-season fruit or products not available sufficiently in Australia continued to grow, according to figures sourced from the Australian Bureau of Statistics.
Australia's fresh fruit imports reached a record 137,000 tonnes worth A$348m.
Topping the import table with a value of A$90m were New Zealand avocados, which enjoy strong demand in the summer months after the peak of the Australian production season. The 20,000 tonnes imported supplemented Australia's own production of some 55,000 tonnes.
Kiwifruit is the other major product imported from New Zealand. Together with smaller volumes arriving from Europe, total kiwifruit imports reached A$48m to supply 90 per cent of Australia's demand for the fruit.
Table grapes were the second-largest import category, weighing in at 18,000 tonnes worth A$73m. US grape imports fed consumer demand for the fruit between June and October when Australian production is out of season.
Similarly 17,000 tonnes of Californian navel oranges worth A$26m were imported between December and April, which is counterseasonal to Australia's navel orange production.
In the last two years, consumers have also been able to purchase peaches and nectarines during winter, imported from the US between May and September. In 2014, around 5,000 tonnes worth A$21m were imported to help provide a year-round taste of summerfruit. The US also supplied some 2,500 tonnes of cherries to Australia in July and August worth A$18m.
Most fresh fruit imports are high-value products filling a consumer need when local fruits are out of season. Australia does not import bananas at any time, and began importing a few apples from China and New Zealand around five years ago. To date, volumes do not exceed 0.5 per cent of total Australian consumption.
While fresh fruit imports are increasing, they make up less than 10 per cent by value of all fresh fruit consumed in Australia, which is overwhelmingly locally grown. Australia also exported almost A$600m worth of fresh fruit to international markets in 2014.