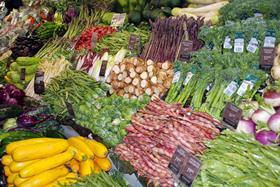 Ausveg is urging the Australian public to buy more vegetables to give themselves the best opportunity to meet the guidelines for vegetable intake.
The call from the peak industry body for Australian vegetable growers follows the release of a report from the Australian Bureau of Statistics (ABS) that indicates Australians are only buying enough vegetables for 2.3 daily serves, well short of the recommended five or more daily serves.
The ABS figures were taken from the recently-published Apparent Consumption of Foodstuffs, Australia, 2018–19, and reported on sales of foods from supermarkets, grocery stores, convenience and specialty stores.
James Whiteside, chief executive of Ausveg, said that the latest figures from the ABS are concerning, given the importance of a vegetable-rich diet in maintaining a healthy lifestyle and the myriad health benefits that come from eating fresh vegetables.
"The message is clear – you need to buy enough vegetables so that you can eat enough vegetables. The reality is that most Australians are setting themselves up for failure in meeting the recommended intake of vegetables by not buying enough vegetables," Whiteside said.
"We know that most Australians do not eat enough vegetables to meet the recommended dietary guidelines. Given the report investigated apparent consumption through sales data and not actual consumption, it is likely that the current intake of vegetables is actually lower than this report indicates, particularly at the moment due to the coronavirus pandemic,' he added.
"People tend to eat more vegetables when they are able to eat out at cafes and restaurants. The disruption of the food service sector from the pandemic has severely limited this avenue, and unfortunately people are not buying more vegetables to compensate for this."
The recommended daily vegetable intake used in the report is derived from the 2013 Australian Dietary Guidelines, which recommends that adults should eat at least five servings of vegetables a day, with one serving of vegetables equivalent to half a cup of cooked vegetables, half a medium potato, or one cup of salad vegetables.
"The health benefits of increasing vegetable consumption are well-documented, but the rates of consumption are still unacceptably low – and getting lower," said Whiteside.
"Vegetable growers are deeply committed to increasing vegetable consumption and are working alongside the food and health industries as part of the Fruit & Vegetable Consortium to pool research, knowledge and passion to improve the health and wellbeing of Australian men, women and children."
Whiteside said more work needs to be done to boost vegetable intake and industry is looking at ways to help Australians eat more vegetables.