Hort Innovation marketing manager presented with Australasia's premier fresh produce marketing award
Belinda Van Schaik has won the 2023 IFPA-Produce Plus Marketer of the Year Award (MOYA), sponsored by Seeka.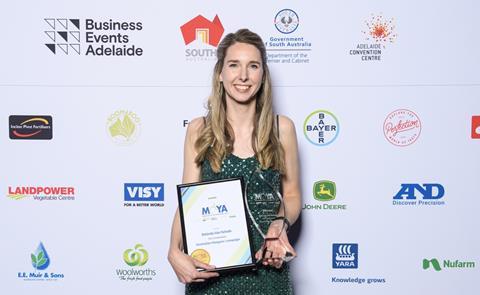 Australasia's premier marketing award for the fresh fruit, vegetable and floral industries was presented at last night's (7 June) Hort Connections Gala Dinner in Adelaide.
Van Schaik, marketing manager of grower-owned research and development corporation Hort Innovation, was recognised for her work on the 'Australian Mangoes' campaign.
"It's incredibly rewarding being part of the team at Hort Innovation who are responsible for marketing programmes that support growers to drive demand for Australian produce," said Van Schaik.
"We have a strong focus on listening to better understand our industry and consumers, as well as measurement and evaluation, to ensure the efforts of our programmes deliver to the needs of our growers. To have our data driven mango marketing campaign recognised as an example of best practice, is an opportunity I'm thrilled to share on behalf of our team."
Van Schaik's campaign was developed as part of the industry-wide Australian Mangoes marketing programme, which is coordinated by Hort Innovation. She was tasked with developing an engaging and disruptive national brand campaign that elicited behaviour change, as measured through an increase in the number of Australian households purchasing mangoes over the 2022/23 season, versus the season prior.
Communication touchpoints included out-of-home panels on the path to purchase, online video, public relations, social media advertising and retail media.
MOYA judges were impressed by the way the campaign used clear and consistent messaging across all channels to address common purchase barriers with mangoes, namely 'ease of preparation' and 'messiness', which were identified through consumer research.
On her entry, Van Schaik said these barriers presented an opportunity to educate and inspire a hero preparation method that was "simple, easy and creates minimal mess". The so-called 'hedgehog' technique became the key visual for all touchpoints, including point-of-sale activations. The technique highlighted the 'slice, dice, devour' message to illustratively demonstrate how to cut and dice mango cheeks.
"The campaign presents as a masterclass in marketing strategy and execution," said Matthew Jones, Editor of Produce Plus Magazine. "Drawing on consumer research, Belinda identified a consumer pain point and leveraged it into an educational opportunity. The process that went into selecting the right marketing tools for the consumer audience was extremely well thought out, while the uniformity of the messaging across all touchpoints was undoubtedly a key to the campaign's success."
MOYA judges were also impressed by how the campaign played to the sensory experiences that mangoes evoke over the summer season.
"Employing messaging such as 'The wait is over', along with a 'Taste the sunshine' call to action, the judges felt the campaign did an outstanding job of building and maintaining consumer anticipation over the course of the mango season," Jones said.
The campaign also delivered on its core objective. Citing NielsenIQ data, Van Schaik's entry showed 59.4 per cent of Australian households purchased mangoes over the 52 weeks to 26 February 2023, an increase of 2.7 per cent on the previous corresponding period.
"Thank you and congratulations to everyone who makes up 'team mangoes' – our growers who produce this delicious, iconic fruit, which is synonymous with the Australian summer," Van Schaik said. "The industry representatives who co-created the marketing plan. The retailers who ensured prominent placement in-store and catalogue features. And finally the Hort Innovation team, who bring so much passion and positivity in their efforts to help drive the horticulture sector."
The 'Australian Mangoes' campaign was chosen from a strong field of three finalists. The other finalists were:
· Zespri International for the 'Crazy Tasty' campaign
· Red Rich Fruits & Manbulloo, led by Erin Hart, for the 'Kensington Pride Mangoes' campaign
The finalists presented their campaigns as part of a MOYA Showcase event on the trade show floor at Hort Connections on Tuesday (6 June).
Produce Plus Magazine and the International Fresh Produce Association Australia-New Zealand congratulate Belinda Van Schaik and Hort Innovation on the successful campaign and all three finalists for their outstanding entries.
The 2024 IFPA-Produce Plus Marketer of the Year Award will be presented at next year's Hort Connections. The award continues to celebrate outstanding achievement in the field of fresh produce and floral marketing across Australia and New Zealand. It is open to both individuals and team members from any part of the value chain.