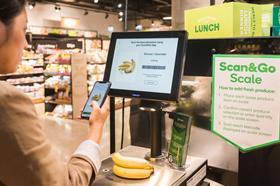 Woolworth's new Scan&Go service has been increasingly embraced but consumers wanting contactless shopping during coronavirus (Covid-19) pandemic.
According to a report from The Australian Financial Review, the retailer said it has seen a surge in consumers using the service, which is currently being trailed in 15 stores, since the beginning of the pandemic.
Scan&Goallows customers toscanproducts with their smartphone as they walk through the storeandpay in the app before tapping off at a dedicated kiosk in the self-serve area.
When it comes to scanning fresh produce, some of the trials are using anew artificial intelligence (AI) powered scale that automatically identifies loose fresh produce.
Amanda Bardwell, managing director of digital innovation division WooliesX, said concerns about social distancing had resulted in more consumers using the Scan&Go service and other contactless options.
'We've certainly seen an increasing number of customers wanting a contactless experience where possible in our stores, and that extends to everything from tap and go with their loyalty, credit and debit cards, to the Scan&Go trials,' Bardwell told The Australian Financial Review.
'In the stores where we are currently trialing Scan&Go, there's certainly been an increase in the number of customers who've taken it up over the last couple of months, and we think that's a really interesting trend for us to watch, which will in fact accelerate.'
Bardwell said Woolworths has no plans to reduce normal checkouts in the near future, but she expects the Scan&Go service to become more popular at it reaches more stores.