'Perino Tomato - Hit the Sweet Spot' campaign recognised with Australasia's premier fresh produce marketing award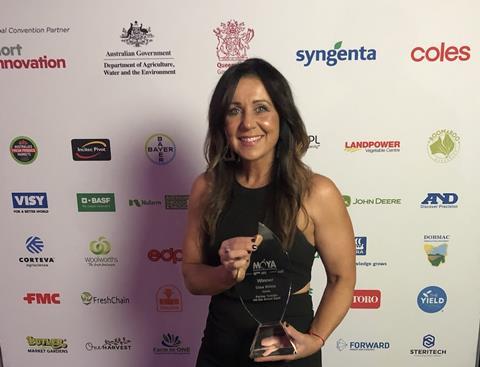 Costa's Elisa Siliato has won the 2022 IFPA-Produce Plus Marketer of the Year Award (MOYA), sponsored by Seeka.
Australasia's premier marketing award for the fresh fruit, vegetable and floral industries was presented at last night's (8 June) Hort Connections Gala Dinner in Brisbane.
Siliato was recognised for her work on the 'Perino Tomato - Hit the Sweet Spot' campaign.
The 'Hit the Sweet Spot' campaign was a highly visible and well executed marketing campaign that helped the Perino tomato brand evolve beyond the snacking tomato category and infiltrate the lighter and main meal segments.
An effective omni-channel approach – which spanned owned and paid channels, plus PR and media partnerships – saw the campaign reach over 24m people, with an engagement rate of 67 per cent, according to marketing data collated by Costa.
This resulted in a 6 per cent year-on-year increase in new customers, and a 7 per cent increase in unit sales of Perino punnets, according to Coles IRI Scan Data.
"Winning this award is recognition of all the work that's been done over the years, but particularly over the last year with changing our approach to marketing," Siliato said.
"It means a lot to get acknowledgment for that work and the impact of what marketing can do for a great product."
Siliato thanked Australian retailer Coles for supporting the campaing and the development of the Perino brand.
"Collaboration has been key to the success of this campaign," Siliato said. "Working with our supply partner, in this case Coles, and ensuring there was supply whenever we executed any of our campaigns enabled us to succeed."
The winning campaign was chosen from a strong field of five finalists. The four other finalists were:
• Jenny Mercer of WA Farm Direct for the '2021 Bravo Apple' campaign
• Tropical Pines marketing team for the 'Spooky Pines' campaign
• Belinda Van Schaik of Hort Innovation for the 'Australian Bananas' campaign
• Driscoll's marketing team for the 'Sweetest Batch' campaign
The five finalists presented their campaigns as part of a MOYA Showcase event on the trade show floor at Hort Connections on Tuesday (7 June).
Produce Plus Magazine, IFPA and Seeka congratulate Costa and Siliato on the successful campaign, and all five finalists for their outstanding entries.
The upcoming Spring edition of Produce Plus will include an interview with Siliato. Subscribe to Produce Plus to receive your copy of the magazine and access to the Produce Plus app.
The 2023 IFPA-Produce Plus Marketer of the Year Award will be presented at next year's Hort Connections. The award continues to celebrate outstanding achievement in the field of fresh produce and floral marketing across Australia and New Zealand. It is open to both individuals and team members from any part of the value chain.