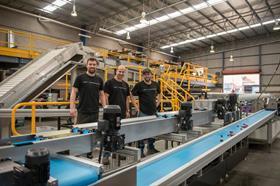 Australian company GP Graders has said that it is open and in full production, meeting orders for the 2020 season and confident that the Australian Federal Government is unlikely to impose measures which would see any slowdown of the manufacturing sector, despite the coronavirus pandemic.
"We are all healthy, all at work and undertaking overtime to get the jobs out the door," explained Stuart Payne, Director of GP Graders.
With Europe closed due the outbreak, GP Graders said that sales enquiries for its AirJet Vision range of grading software and machinery had been skyrocketing.
"If this Covid-19 virus has taught us anything, it's that it's time to automate and take labour out of the equation,' Payne continued. 'If a machine does a better job than a person, then buy the machine, it's simple.'
In the past week GP Graders has taken orders for sorting and packing machinery for apples, mangoes, cherry tomatoes, blueberries and cherries, the company outlined.
"With the success of its AirJet Vision technology, 2020 was on track to be a very good year but with this upturn in sales, it now appears it will be the best year yet for the company."