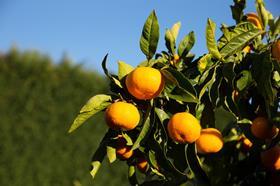 New Zealand-grown satsuma mandarins will begin arriving in stores across the country this week, two weeks earlier than previous seasons.
T&G Fresh, the largest citrus grower in New Zealand, started harvesting the fruit late last week in the Northland region.
The company expects to sell approximately 50m satsuma mandarins from its own orchards and partner growers in the Northland, Auckland and Gisborne regions.
"It's an impressive crop this year, thanks to the generous rainfall we had in early summer. These conditions have produced juicy, sweet mandarins, with low acidity levels which consumers will love," said Tom Chamberlain, T&G Fresh's regional manager in Northland. "Given the favourable citrus growing conditions, this year's harvest is earlier than previous years."
Chamberlain said satsuma mandarins have grown to become the largest volume citrus crop in New Zealand over the past seven years.
"Satsuma mandarins are seedless and really easy to peel, making them a great and convenient snack for school, work or on the go, and given the bumper crop this year, Kiwis will be pleased to know there's plenty of fruit to go around," he explained.
T&G Fresh will launch a new season satsuma awareness campaign in stores, across social media and on radio. The campaign will promote the nutrition value of the fruit.
"Demand for citrus is strong, as Kiwis look for ways to naturally boost their health, especially during the colder months," Chamberlain said. "Citrus is an important part of a healthy diet, providing high levels of vitamin C, together with minerals and antioxidants."
T&G Fresh will export some of this season's satsuma crop to Japan.