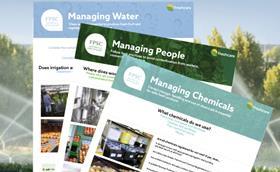 Australia's Fresh Produce Safety Centre (FPSC) has teamed up with assurance standards specialist Freshcare to launch three new food safety flyers for the fresh produce industry.
The flyers focus on water, chemical and people management. They draw on chapters from the FPSC's Guidelines for Fresh Produce Food Safety and have been designed to be easy-to-understand tools for businesses across the supply chain.
"We are keen to promote tools and resources to help everyone in our industry understand the key food safety issues and the practices we need to follow to produce safe, quality food, day in and day out," said Andreas Klieber, chair of FPSC.
Freshcare chief executive Jane Siebum said: "Freshcare is delighted to partner with the FPSC on these new food safety resources and we plan to share them with our networks across the whole supply chain."