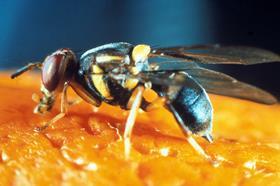 Quarantine areas have been established in South Australia's Riverland region following two outbreaks of Queensland fruit fly.
The first outbreak was detected on 23 December in Renmark West following the discovery of larvae in backyard fruit trees. The second was detected on 30 December in Monash following the discovery of larvae in the area.
A 15km suspension area and a 1.5km outbreak area have been established around the detection point at both sites.
While fruit fly free status has been temporarily suspended across two suspension areas as a result, this declaration has no impact on the fruit fly free status for the rest of the Riverland Pest Free Area or the state.
Nathan Rhodes, executive director of biosecurity at the Department of Primary Industries and Regions, said the Department has immediately commenced an eradication program to eliminate fruit flies from the outbreak area and nearby surrounds.
"Following last week's Queensland fruit fly detection at Renmark West, all available resources are being targeted into both the Monash and Renmark West outbreak areas along with the continuing response to the Mediterranean fruit fly outbreak in Metropolitan Adelaide,' Rhodes said.
'We are working to ensure the eradication of fruit flies from all areas in order to protect our A$1.3bn fruit fly vulnerable horticulture industry. Department staff are in the Riverland now applying organic bait and removing fruit and vegetables from properties in the affected area.'