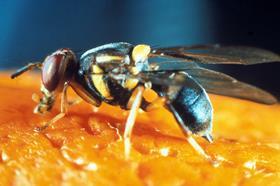 Australia's state and federal governments have pledged an extra A$13m (US$10m) to the Strengthening Australia's Fruit Fly System Research Programme, boosting the county's fight against the pest.
The federal government announced an investment of A$6.5m (US$5m), which was matched by state and territory governments.
David Littleproud, Australia's minister for agriculture, drought and emergency management, said the programme was helping improve the understanding and management of fruit flies and would complement international trade objectives.
"Fruit flies pose a serious threat to Australian horticulture, and some species are capable of infesting a wide range of commercial and native fruits and vegetables costing growers and threatening our exports," Littleproud said.
"The National Biosecurity Committee has recently approved six projects to address some of the gaps in our understanding of the pests. This research complements other fruit fly research undertaken by industry and other organisations.
"This research programme is an effective government partnership, and I would like to thank my agricultural counterparts in making this happen. It will ultimately give growers, landholders and the community a broader range of tools and knowledge to manage fruit flies into the future."
Fruit flies pose a constant threat to the country's horticulture industry with flies detected as in South Australia as recently as January 2021.