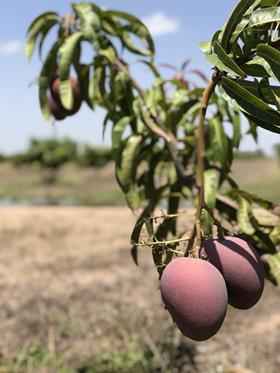 Three mango hybrids produced by the National Mango Breeding Programme (NMBP) will transition to the next phase of their commercial development in the coming months, with Queensland's department of agriculture (DAF) taking over the project from Newmanco.
The unbranded varieties are currently known as NMBP-1201, NMBP-4069 and NMBP-1243, and are protected by Plant Breeders Rights granted through IP Australia.
They are currently grown by over twenty growers on orchards in Western Australia, the Northern Territory, Queensland and New South Wales.
Following the conclusion of the breeding programme, CSIRO led the commercialisation of the varieties on behalf of the NMBP state and territory partners and licensed Newmanco in 2015 for the commercial rights to the three varieties.
Newmanco, CSIRO, and the state and territory partners have successfully agreed on a new arrangement which sees DAF taking on the licensor role moving forward.
Newmanco's Brett Kelly said Newmanco fully supports the new project team and wishes them every success.
"The expertise and resources to be provided by DAF is fantastic news for those involved, such as the nurseries providing high health growing material, the growers nurturing their trees, and for mango lovers alike, as the new project team continues to bring these exciting varieties to market," he explained.
Lynne Turner, general manager horticulture and forestry science in DAF added that some regions have maturing orchards, and the next phase will involve an Expression of Interest (EOI) seeking tender proposals from suitably experienced agents to take on the licence to manage the propagation, growing and marketing of the varieties.
The Intellectual Property (IP) portfolio will be expanded to include registered trademarks.
According to a report by the ABC, work started on the varieties around 25 years ago via the NMBP and made headlines in 2010 when it was suggested one of the varieties be named after Kylie Minogue.
At the time, the mango industry was expecting the varieties would be branded and hitting supermarket shelves by 2012.
Far North Queensland (FNQ) mango grower Raymond Bin signed up to get hold of the hybrid mangoes in 2010. He told the ABC it had taken way too long.
"I don't think anyone would deny that,' explained Bin. 'I personally waited for a very long number of years before I could even access the trees for planting.
'It's disappointing that's the way it went but we need to move forward now.'