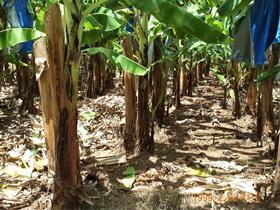 Australia's Northern Territory will be home to a trial of genetically modified (GM) bananas in a bid to find a variety resistant to the disease Panama Tropical Race 4 (TR4).
The Queensland University of Technology will run a controlled 6ha field trial of GM bananas in Litchfield to research resistance to Fusarium wilt disease, also known as Panama disease.
Australia's Gene Technology Regular approved the trial on 13 October 2016 on the proviso that the GM bananas are not used for human or animal food, but found that the controlled release of these GM bananas posed "negligible risks to people and the environment".
The study will build on previous research conducted in the Northern Territory that was halted as a result of the Banana Freckle Eradication programme, which saw banana plantations in some parts of the Northern Territory destroyed.
'The outcome of that trial was that we found four lines of Cavendish Grand Nain which had either complete or very high levels of resistance,' James Dale, professor at Queensland University of Technology's Centre for Tropical Crops and Biocommodities, told ABC Rural on 13 February. 'We're now taking those four lines that look very promising and trialling a much larger number of plants over a much bigger area.
'We're also bringing up new lines with the same gene in to see if we can get even better resistance.'
ABC Rural reports that researchers will monitor the GM crop, recording the symptoms of Panama disease as they appear before doing a molecular diagnosis of which symptoms are caused by the disease.
The Panama TR4 disease was detected in Australia for the first time in 2015, with plantations in northern Queensland testing positive for the highly transient disease.