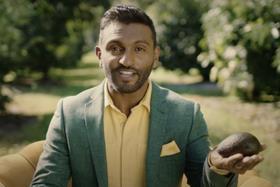 The winner of the Seven Network's contest to crown the best ad shown during the Tokyo Olympic Games has been announced, with Australian Avocados' 'Our Green Gold' campaign named the public's favourite.
Australian Avocados, a consumer-facing programme managed by Hort Innovation,has won A$1m worth of ad placements, to be used over the next nine months.
Seven West Media's Katie Finney congratulated the team at Hort Innovation and its agencies TBWA and Atomic 212°.
"Their humorous and iconic Australian creative resonated with our audiences and demonstrates the power of contextual, creative advertising,'Finney said."Australian avocado farmers will benefit from having their 'Our Green Gold' campaign run in the greatest cultural and live moments on Seven between now and the Beijing Winter Olympics."
Matt Brand, chief executive of Hort Innovation, said the Australian Avocados campaign is a celebration of all things 'green and gold', and by extension all things symbolically Aussie.
"The Olympics Games Tokyo 2020 provided the perfect platform to remind everyone that our country not only boasts first-class athletes, but the best fresh produce as well," explained Brand.
"Hort Innovation is thrilled that this campaign has received the viewers' vote for 'Best ad of Tokyo 2020' - it just goes to show how much Aussies love their avocados and support our local growers."
The competition was open to advertisers who placed an ad in Seven's Olympics coverage. The winner was decided by a public poll.
Seven West Media chief marketing officer, Charlotte Valente, said the Olympics was jam-packed with moments that moved the audience.
"Drawing on the emotions of Tokyo 2020 provides brands an opportunity to connect at a deeper level with the audience which heightens awareness, recall and consideration," said Valente.
"Tokyo 2020 on Seven was the biggest television and streaming event in Australian history with more than 20m Australian's watching the inspiring action. We launched Favourite Ad of Tokyo 2020 to celebrate creativity and showcase the amazing work of the advertising industry in the Games as voted for by the nation. We were stunned by the quality of the ads entered that powerfully tapped into the excitement of the Olympics and connected with audiences."