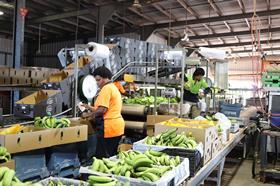 The Australian government has announced temporary changes to visa arrangements, following sustained calls from peak industry bodies to ensure the industry has a reliable workforce in place for the upcoming harvest.
The temporary changes relate to those currently in Australia and working within the pacific labour scheme, seasonal worker programme, and working holiday makers and will allow them to extend their stay for up to 12 months to continue to work in the agriculture and food industry.
In late March the government imposed a ban all non-citizens and non-residents entering Australia, putting the agricultural industry's workforce at risk.

A large proportion of Australia's agriculture workforce is sourced through the aforementioned schemes. The travel ban prompted peak industry bodies, including Australian Fresh Produce Alliance (AFPA), Citrus Australia (CA) and Australian Banana Growers Council (ABGC), to call for an extension on current workers' visas to fill the impending gap.
Deputy Prime Minister and minister for infrastructure, transport and regional development, Michael McCormack, said the Government was protecting the health of Australians by supporting businesses, providing job opportunities and securing food supply.
"We can't afford to see fruit rotting on trees and vines and vegetables left unpicked. It is vital our farmers maximise their hard work and economic returns," said McCormack.
"We are acting to enable seasonal workers to extend their stay and remain lawfully in Australia until they are able to return to their home countries.
"The agriculture sector relies on an ongoing workforce and we are committed to providing the means for that to continue while ensuring strict health and safety measures are adhered to, including visa holders following self-isolation requirements when they move between regions," he added.
Minister for agriculture, drought and emergency management, David Littleproud, acknowledge workforce requirements for agriculture change within and across states as different crops are ready for harvest.
"It is essential for our food security that workers can move to meet these seasonal labour needs," said Littleproud.
'At the same time, it is critical we manage this labour force to support the on-going health of regional communities," he added.
In a statement, AFPA chief executive Michael Rogers said with over 80,000 people employed in Australia's fresh produce industry, many of them on fixed term visas, the temporary measures would allow them to remain in the country lawfully.
"The reality is a number of these workers, particularly those from the Pacific and Timor-Leste are unable to return to their home countries due to travel restrictions. The alternative to the extension of their visa arrangements was leaving these people unemployed in regional communities with minimal access to healthcare. Enabling their ongoing employment is a great outcome for workers, farmers and their communities" said Rogers.
Citrus Australia chief executive, Nathan Hancock, also welcomed the decision, highlighting the importance of the timing to the citrus industry.
"Our growers are ready to harvest thousands of tonnes of fresh Australian citrus for Australian consumers, and immediate access to these visa extensions is crucial," said Hancock.
"We are pleased the government has made this decision and our growers will prioritise all health and safety requirements related to the management of Covid-19."
Under the temporary measures, working holiday makers will be required to self-isolate for 14 days and register via the Australian government website prior to beginning employment.
Work health and safety guidelines have been developed by the National Farmers Federation, with Australia's Chief Medical Officer reviewing them prior to implementation.
ABGC chief executive Jim Pekin said Australia's banana industry never stops harvesting.
"The banana industry harvests and packs 52 weeks per year. It's workforce nationally is made up of approximately 40 per cent local workers and 60 per cent either backpackers or from the Seasonal Worker Programme," said Pekin.
He noted the agreement would allow growers to retain their workforce, which would not only help keep them operating, but would also help protect the health and economic stability of regional communities.
"Growers will still continue to employ local staff as well as retain backpackers and Pacific Islanders.
"In this current climate of uncertainty, this news allows growers to retain existing staff on farm and within these local communities, which will reduce the need to seek workers from other regions or interstate," he added.