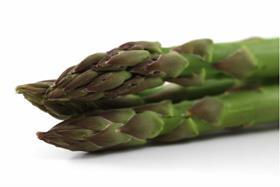 Global Plant Genetics (GPG) has highlighted the strength of the Pacific Green variety, which is bred in the temperate climate of New Zealand by Aspara Pacific and is said to thrive in temperate and warm continental regions.
According to GPG, Pacific Green produces an all-green spear that keeps a tight head at 25cm, while its seed is free of Asparagus Virus 1, Asparagus Virus 2 and Tobacco Streak Virus.
The variety is a clonal hybrid and the seeds are produced in a protected environment, it is a high yielding hybrid that produces 'exceptionally well' in southern Europe and in temperate production regions.
Pacific Green is suitable for all main green asparagus market types and it is very well suited for local fresh or export markets due to its excellent tip quality, GPG said.
"We've been following Pacific Green for several years, since it was a promising selection amongst a group of new genetics,' said GPG's Jamie Petchell. 'Whenever we visited test plots during the harvest season, it would always stand out for its combination of high spear number and superb quality.
'We're excited to now get commercial volumes of seeds onto the market so that growers worldwide can start to enjoy the benefits that it offers,' he added.

Enjoyed this free article from Eurofruit Magazine and its team of editors? Don't miss out on even more in-depth analysis, plus all the latest news from the fresh produce business. Subscribe now to Eurofruit Magazine.