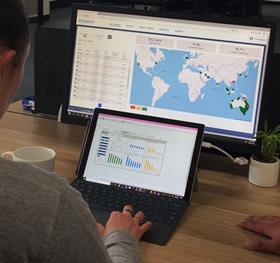 Nearly 200 exhibitors are eager for the opportunity to meet face-to-face again at Hort Connections 2021.Produce Plus previews what to expect from some of the companies showcasing their latest technologies.
The Yield Technology Solutions
Using microclimate sensing or gridded weather, The Yield Technology Solutions says its Sensing+ can predict weather and growing conditions. According to The Yield, it provides a "digital playbook" for commercial growers that helps them codify their growing practices, reduce farm inputs, increase revenue and mitigate key person risk.
Since launching in 2014, The Yield has continued to improve Sensing+ and it can now also be offered as a gridded weather solution using data from a third-party gridded weather provider. This enables users to access the benefits of Sensing+ at a lower price point, so they are able to use Sensing+ across a greater number of dispersed assets.
Agricultural Picking Technology
South Australia's Agricultural Picking Technology will showcase AgPick 3, the latest version of its outdoor workforce and labour management solution. Designed for easy start-up, AgPick 3 focuses on mobility, capturing data at the source and flexible processes. It enables producers to configure their own farm data and set up workflows and associated reporting.
It is developed to put many system functions in the hands of horticultural producers seeking to manage labour more efficiently, capture data at the source and keep better electronic records.
Radfords
New Zealand-based technology company Radfords is making the trip to Hort Connections to present its fresh produce inventory management solutions. It brings some key new enhancements – which are refinements and evolvement of existing systems – to highlight to booth visitors and customers.
These upgrades increase the ability of Radfords' software to help growers, packhouse operators, fresh produce marketers and wholesale teams who want to optimise their systems, reduce manual admin and access live production and inventory information.
Escavox
Sydney-based fresh food intelligence business Escavox will present its global live cool chain tracking and data analysis solutions for fresh produce brand owners. New and improved dashboards – which now also monitor humidity and light – display data in real time, making it even easier for customers of Escavox to keep track of their products and the conditions in which they travel.
"Our customer base is diverse and typically includes large vertically integrated production businesses and marketers who want to protect their brand, through to smaller businesses with high-value, highly perishable product, and transport companies," says Escavox business development manager Jenny Margetts.