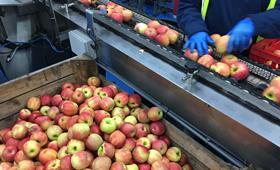 The Australian Bureau of Agricultural and Resource Economics and Sciences (ABARES) has released its latest forecast, which details the effect labour shortages could have on Australia's horticulture industry.
Its horticulture outlook for the March quarter of 2021 predicted the value of Australian horticulture will reach A$12.8bn for the 2020-21 financial year (12 months to 30 June 2021), a decline of 1 per cent year-on-year.
ABARES said farmgate prices of some horticultural products were forecast to rise in the latter part of 2020–21, however, these price increases are expected to be low relative to normal seasonal volatility and should not affect consumer demand.
"Demand for horticultural produce in Australia is not particularly sensitive to changes in price. For example, Australian consumers generally do not significantly reduce purchases of fresh produce when prices rise," said the report.
The report said the price rises would be driven by an expected fall in production as a result of a significantly reduced supply of overseas labour. Fruit production was forecast to fall by around17 per cent and vegetable production was forecast to decline by around2 per cent for 2020-21.
The outlook also provided a medium-term forecast for up until 2025–26, that suggested prices would only stabilise once seasonal labour levels returned to normal by 2022–23.
"In the medium-term, a staged increase in the supply of overseas labour is forecast to enable an increase in production. This will lower prices over the first half of the projection period," the report said.
"Over the latter part of the projection period to 2025–26, prices are forecast to stabilise, with production expected to continue recent growth trends."
The value Australia's horticulture exports were forcast to folllow a similar trend.
Jared Greenville, acting director of ABARES, said while the sector has demonstrated resilience and the ability to adapt to Covid-19, other challenges remained.
"Shifting trade, along with macroeconomic and production uncertainties, will provide the backdrop for what we expect to be a more difficult environment in which to grow production and trade value," said Greenville.
"But over the longer term, we cannot forget that the fundamentals remain strong – middle-income growth, urbanisation, population growth – will all be positive forces shaping sector fortunes.
"What will be important is creating the conditions to maximise the sector's growth and contribution to the economy," Greenville added.
"Innovating and meeting consumer expectations around what we produce and how we do it, along with ensuring our export systems are efficient and reward producers for the quality of their product, will all be important in growing value in an uncertain future."