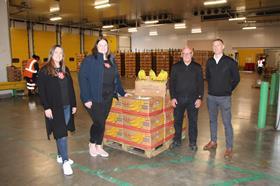 MG Marketing and Dole New Zealand have launched a new programme to donate bananas to foodbanks run by The Salvation Army.
Under the 'Good Bunch' programme 48,000 Dole bananas will be donated each year to foodbanks across New Zealand using MG's national network.
Ellery Tappin, MG's general manager of communications and sustainability, said working with The Salvation Army would help the wholesale grower-cooperative support vulnerable people.
"The Salvation Army foodbanks are a lifeline for New Zealand's most vulnerable and at MG we are acutely aware that now, more than ever, the demand for their services is on the rise," said.
"By working in partnership with Dole and The Salvation Army we are pleased we can contribute to those in need in our communities and are also keen to grow this model to provide a wider range of fresh fruit and vegetables in the future."
Kamilla Camilo, senior marketing manager of Dole New Zealand, said programme was a was part the company's recently launched Dole Promiseinitiative aimed at making healthy food accessible.
"Dole is proud to launch this initiative as it aligns with our global objectives to work with our global network of partners to make a real and measurable impact in the communities they operate within," said Camilo.
Jono Bell, community ministries director of The Salvation Army, was grateful to MG and Dole for their generosity.
"(This) will enable The Salvation Army to fight hunger on an even more meaningful level by providing a regular, ongoing supply of healthy produce to our network of foodbanks across the country," said Bell.
"Having fresh, healthy options available to our foodbanks is so important and by all working together we can make a huge difference to the lives of Kiwis who are struggling."
Enjoyed this free article from Produce Plus and its team of editors? Don't miss out on even more in-depth analysis, plus all the latest news from the fresh produce business. Subscribe now to Produce Plus Magazine.