Partnership with Coles and Detpak delivers kerbside recyclable paper bag for Gourmandine potatoes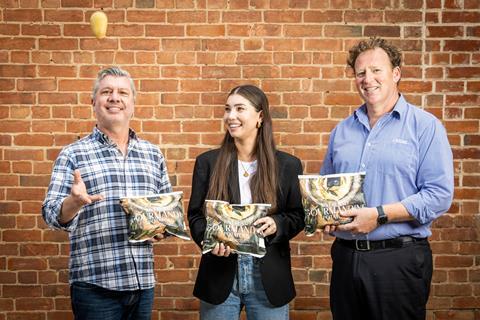 Mitolo Family Farms has launched a new kerbside recyclable paper bag for its premium Gourmandine potatoes offering.
The paper bag is the result of an exclusive partnership with Coles and three years of rigorous development to create a bag that meets strict recycling standards while also ensuring the potatoes can be stored in the perfect dark, cool and dry conditions. It also had to be strong enough to hold 1.5kgs of Gourmandine potatoes available exclusively through Coles.
Managing director Frank Mitolo said Mitolo Family Farms believed it to be the first kerbside recyclable paper bag for fresh potatoes in Australia.
"This paper bag may sound like a simple solution, but its development required immense work. First and foremost we had to ensure there was absolutely no compromise to the quality of the potato while at the same time achieving the sustainability outcome we were seeking," said Mitolo.
"We had to consider everything from the lux lighting levels in Coles stores through to breathing holes that wouldn't tear, new sealing solutions, strength to hold the weight of the potatoes and more.
"We know Australian consumers are increasingly looking for sustainable supply chains for the products they purchase, so we're proud to be leading the way and partnering with Coles with a product that so many Australian families love to cook and share."
The recyclable paper bag delivers a 64 per cent reduction in plastic compared to the previous Gourmandine packaging, reducing annual plastic use by 8.2 tonnes.
It also extends on previous sustainability steps taken by Mitolo Family Farms – having cut its use of plastic packaging by 60 tonnes in 2022 by reducing the thickness of plastic used to bag potatoes.
Mitolo Family Farms worked closely with Detpak to develop the new kerbside recyclable packaging for Gourmandine.
Detmold Group general manager of innovation and sustainability Tom Lunn said Detpak applied proprietary technology to deliver on both sustainability and efficiency outcomes for Mitolo Family Farms, Coles and the end-consumer.
"We're very pleased to have been able to draw on our in-house development capabilities in order to assist Mitolo Family Farms with their desire to transition their Gourmandine product away from plastic packaging," Lunn said.
Coles business category manager for vegetables Tim Nitschke said Coles was pleased to work with Mitolo Family Farms to develop the innovative paper packaging solution for the Gourmandine range.
"Coles has partnered with the Mitolo family for over 25 years and we are pleased to work closely with them to develop this innovative paper packaging solution for the Gourmandine range available exclusively at Coles," Nitschke said.
"We are always looking for ways to reduce unnecessary and problematic plastic packaging in our stores, as well as reduce food waste, and this innovative new paper bag helps to achieve these sustainability ambitions."