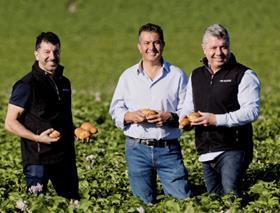 Mitolo Family Farms has won the Coles Fresh Produce Supplier of the Year Award.
The South Australian vegetable grower-packer-marketer was one of 15 suppliers recognised by the Australian retail chain as part of the 2021 Coles Supplier Awards, announced on Thursday (3 February).
Coles recognised Mitolo's "continued investment in innovation and sustainability", which has resulted in a 60-tonne reduction of plastic in packaging, water saving projects and improved freshness of its potatoes to customers.
Australian Garlic Producers won the Coles Community Champion of the Year Award. The Mildura-based business was recognised for its initiatives with the Warrabri Aboriginal community at Ali Curung in the Northern Territory.
The company is in the process of developing a viable and sustainable garlic industry, resulting in future employment opportunities for the community and early season garlic for customers.
Coles chief executive Steven Cain congratulated all 15 winners and commended them on their continued efforts to help feed the nation.
"At Coles, we're grateful for our long-held partnerships with farmers, producers and suppliers which help drive our purpose to sustainably feed all Australians," Cain said.
"Covid-19 has certainly proven to be tough on businesses around the country, but it is heartening to see examples of remarkable resilience and passion from suppliers who have continued to achieve amazing feats, despite the challenges."