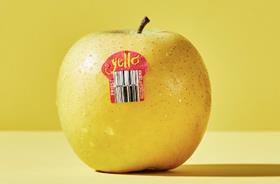 Montague is wrapping up its 2020 apple harvest with two new offerings. The leading Australian fresh produce company has started picking the Yello and Eve varieties, having already delivered abundant crops of fellow branded varieties Smitten, Ambrosia, Jazz and Envy.
A cross between Golden Delicious and Senshu, Yello is a bright-skinned apple with sweet, crunchy and juicy flesh. Featuring a flavour reminiscent of cooked apples and summer blossoms, Montague hopes Yello will be a game changer for the Australian market.
Yello is currently being grown in southern Victoria. It is being sold at selected independent supermarkets and greengrocers across Australia, along with selected Woolworths stores in New South Wales and selected Coles stores in Victoria.
Montague describes Eve as a crisp, crunchy and refreshing apple that boasts a bright red skin and a white flesh. Featuring a sweet yet tangy flavour that is juicy and full of natural sugars, Eve is being grown in the cool mountainous regions of Batlow, New South Wales, and the Huon Valley, Tasmania.
Harvested in late Autumn, Eve apples are being sold exclusively through Coles stores in all states but Western Australia.
"We are excited to round out the 2020 harvest season with one of our most unique apple offerings in Yello, which is an apple celebrated for its colour, texture and aromatic flavour," said Scott Montague, managing director and third-generation family member of Montague. "Eve is such a great all-rounder in terms of crunch and balance between sweet and tangy."
Montague said the 2020 apple season had been one of the most challenging in recent decades, with difficulties felt across the entire industry.
"The season started out with drought conditions and extreme heat during flowering, followed by the threat of fire in the Batlow region and moved to us managing the harvest through the COVID-19 pandemic," Scott Montague explained.
"Despite these challenges, the season has shaped up to be one of the most satisfying seasons yet, seeing great results in terms of bin numbers and fruit quality across all of our brands."