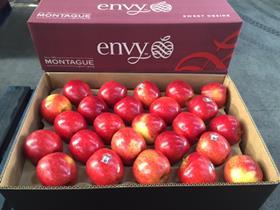 Australian family-owned fresh produce company, Montague, has launched its 2020Envy apple season, with 1,500 tonnes set to be harvested from its orchards across the country.
With the trees now in the fourth year of production, the fruit will continue to be available at Woolworths for the entire season. As of 1 June the fruit will be available across a range of independent retail stores up until September. Last year, a limited supply of fruit was made available to consumers at Woolworths viaan exclusive deal.
Featuring a dense, sweet flesh that doesn't brown once cut, Envy is a naturally occurring cross between a Braeburn and a Royal Gala and is a sister variety to Jazz.
Montague has production dotted across the country, including in Stanthorpe in Queensland, Manjimup in Western Australia, the Huon Valley in Tasmania, Batlow in New South Wales and the Yarra Valley, Victoria.
Montague noted the 2020 growing season provided the usual blend of blessings and challenges for Australian growers.
"A cold wet spring followed by extreme high temperatures in December meant the first part of the growing season was a real challenge," the company said in a release.
"As a result of these conditions, a small percentage of the overall 2020 Envy crop is showing some minor russeting."
Fortunes changed in mid-January when weather conditions improved, with mild temperatures and good Autumn rainfall providing what the company described as; "the perfect growing conditions for amazing fruit with bright red stripes and amazing sweet flavour."
"The final result is a crop of full flavoured fruit, loaded with juice and characterised by bright red stripes in the foreground over a cream background with the occasional piece still exhibiting some of the russet marks that were a legacy of the early season.'
Asiafruit is now available to read on your phone or tablet via our new app. Download it today via theApp StoreorGoogle Playand receive a two-week free trial along with access to previous editions.