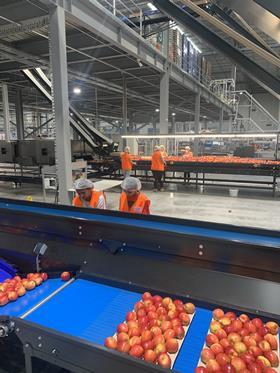 Montague has officially opened its new 53,200m2 packhouse, part of the A$66m development of its headquarters in Narre Warren North, Victoria.
Multiple generations of the family-owned fresh produce business cut the ribbon at the facility on 8 April, marking the end of a nearly five-year long process.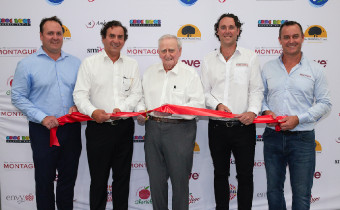 The packhouse has been partly operational since early-2021 processing Montague's stonefruit and apple harvests, the company expects it to become fully operational from mid-May 2021.
Once fully operational, the new packing and distribution facility will increase the company's apple packing capacity by 75 per cent to approximately 38,000 tonnes each year with the ability to process 20 tonnes per hour​.
Capacity for additional 30,000 bins with extra equipment has also be integrated into the design. That's 3m 12kg cartons or 227m apples a year.
Montague's stonefruit packing capacity will also increase by 166 per cent to 7,200 tonnes each season with the ability to process 4 tonnes per hour (up from 1.5 tonnes per hour).
The packhouse is filled with a range of features to facilitate these capacity increases and bring other benefits to Montague's operations including increased efficiency, traceability and sustainability.
These include an Aporo Produce Packer automatic fruit packing machine, a 21 metre high automated cool room, a state-of-the-art grading system provided by Compac featuring its Inspectra2, Spectrim, Ultraview systems, plus new multi-lane sorting and waxing upgrades.
Sustainability is also at the forefront of the packhouse design with the inclusion of the JASA Sleever 100 per cent recyclable packaging solution. All rainwater is stored and used on site, water used during the packing process is recycled saving 3m litres annually while wastewater is treated and used for irrigation.
It has an energy efficient design and a heat exchanger is used to redeploy heat generated by the refrigeration system. Additionally, waste fruit will be removed from the production floor via underground chutes and used for composting.
Scott Montague, managing director of Montague, said it was mammoth achievement and it wouldn't have been possible without the dedication and hard work not only of the entire Montague team, but a host of partners and contributors.
"It's another major step forward in securing the future for Montague, our employees, our growers, our customers and all of our stakeholders," said Montague.
"Build in less than 14 months and during a pandemic, which certainly added to the challenges, the facility is quite literally state-of-the-art and world class in every respect.
"It's testimony to the passion, hard work and vision of the entire Montague team and that augurs very well for us to continue to grow by sharing our passion for quality produce with local and global communities well into the future."
In addition to the packhouse, the A$66m, 12ha, multi-use complex at Narre Warren North also includes a direct to consumer café and retail space with a public picking orchard.
Extended coverage of Montague's new packhouse and what it means for the company will feature in the next edition of Produce Plus. Subscribe here to make sure you get your copy.