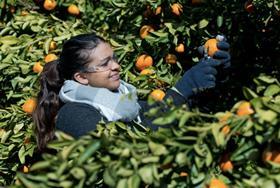 The Australian federal government has announced it will restart its Seasonal Worker Programme. The move is the latest in a series of measures from industry and government to address labour shortages created by the Covid-19 pandemic.
David Littleproud, Australia's agriculture minister, said in a release the Seasonal Worker Programme and Pacific Labour Scheme would be reopened to meet the needs of farmers across the country.
"Farmers can't fill harvest jobs because of Covid-19 travel restrictions, with people prevented from moving across state borders, overseas workers and working holiday makers in scarce supply," Littleproud said.
"I have written to state and territory agriculture ministers urging them to work with their colleagues and farmer sector to take advantage of the reopening of the Seasonal Worker Programme and Pacific Labour Scheme," he added.
"With appropriate state and territory plans and quarantine arrangements in place, seasonal and Pacific workers can safely support farmers facing critical workforce shortages."
There are approximately 12,000 Seasonal Worker Programme visas issued annually, with these workers able to remain in Australia for up to nine months at a time and return year-on-year. State and Territory governments must now opt-in to restarting the programme.
This announcement follows a number of others aimed at tackling labour shortages in Australia's horticulture industry.
Tasmania's government joined these efforts with its A$1.9m (US$1.36) agricultural workforce resilience package on 19 August.
The package is designed toassist with mobilising Tasmanians to help with the upcoming planting, production and harvest seasons, and came in the wake of the state government's decision to keep its borders closed until at least 1 December 2020.
The package includes the 'Feed our State' local agricultural jobs campaign to encourage Tasmanians who are struggling to find employment to consider a new career option.
As well as a two-year boost to the strategic industry partnership programme to co-invest with the industry peak bodies and organisations to support industry resilience, promotion and targeted skills, training and workforce development and more.