Top three announced for Australasia's premier marketing award
Produce Plus Magazine and the International Fresh Produce Association (IFPA) are delighted to announce the finalists for the 2023 Marketer of the Year Award (MOYA), proudly sponsored by Seeka.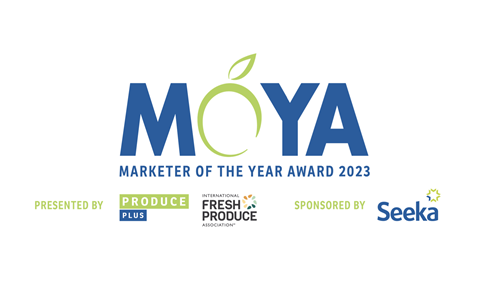 Now in its twelfth year, the premier award for marketing excellence in the Australasian fresh produce and floral industries attracted an impressive field of entries from all points of the value chain, with the MOYA judges having their work cut out to select the award's finalists.
The 2023 MOYA finalists, in no particular order, are:
o Zespri International for the 'Crazy Tasty' campaign
o Belinda Van Schaik of Hort Innovation for the 'Australian Mangoes' campaign
o Red Rich Fruits & Manbulloo, led by Erin Hart, for the 'Kensington Pride Mangoes' campaign
Each entry was assessed on how compelling the campaign was, its unique features, how appropriate the marketing tools were to the product and target audience, how well it was targeted at the particular market segment, and evidence of its success.
"We received a great field of entries this year," said Produce Plus editor Matthew Jones. "While we have traditionally named five finalists for MOYA, the judges felt that these three campaigns really elevated the level of competition and were the clear standouts when assessed against the award's criteria. Put simply, they are outstanding examples of highly visible and effective marketing campaigns."
The three finalists will showcase their campaigns on the trade show floor at Hort Connections 2023 on 6 June from 11am–12noon.
The winner of the 2023 IFPA-Produce Plus Marketer of the Year Award will be announced as part of the Horticulture Awards for Excellence, being held at the Hort Connections Gala Dinner on 7 June.
IFPA and Produce Plus congratulate this year's finalists and thank all nominees for their entries.