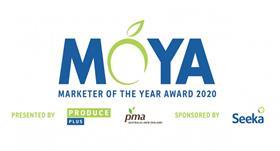 PMA Australia-New Zealand (PMA A-NZ) and Produce Plus Magazine are closing entries for the 2020 Marketer of the Year Award (MOYA) this week.
Sponsored by leading Australasian fresh produce company Seeka, MOYA is open to both individuals and teams from any part of the fresh produce value chain within Australia and New Zealand. Whether you're merchandising fruit and vegetables to consumers, marketing seeds to growers, or promoting produce to the food service industry, our judges want to hear from you.
Nominations will be judged on each marketer's ability to develop and execute a highly visible, effective campaign. A field of finalists will be selected and invited to present the key elements of their campaigns via a webinar, to be held on 16 June. The winner will be announced at the conclusion of the online showcase.
The award is open to any individual or team. Self-nominations and nominations by third parties are welcome and must be received by 8 May 2020.
Entry forms are available from https://www.pma.com/global-pma/anz/news/2019/moya-landing-page