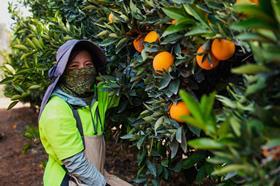 Australian farmers have been reassured the government's new agriculture visa will be delivered this year.
Speaking with the ABC, National's MP and Federal Minister for Agriculture, David Littleproud, was adamant the visa would be delivered as promised.
'The announcement and the start date of an agricultural visa, specific for agriculture, skilled, semi-skilled and unskilled will be well before Christmas," said Littleproud.
'When the Prime Minister made a promise to myself and the National party that he would deliver an agricultural visa he will do it, he is a man of his word."
Pressure has increased over recent weeks as the industry seeks reassurances the government would deliver on its promise.
The new agriculture visa, which will be offered to residents from countries in the Association of South-East Asian Nations (Asean), will be brought in to directly replace British backpackers who will no longer be required to complete farm work as part of their visa requirements. This new measure was included as part of the FTA announced between Australia and the UK.
Peak industry body Citrus Australia has been vocal in demanding the government deliver on its promises.