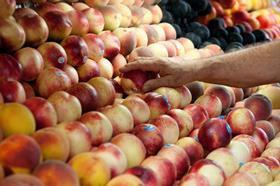 Members of the Summerfruit Export Development Alliance (SEDA) have appointed a new executive board to continue to drive key stonefruit initiatives on behalf of SEDA members.
Ian McAlister, managing director of Sunfruit Orchards, has been elected as chair of SEDA, with executive general manager of LPG Cutri Fruit Global, Frank Frappa, elected deputy chair.
"As SEDA is self-funded, it provides the perfect mechanism to be the agri-political voice of Australian summerfruit and broadens the scope of how it will operate going forward in the current challenging environment," said McAlister. "It will provide a better return to our financial members but will also hugely benefit smaller growers".
Accompanying McAlister and Frappa on the SEDA board is Peter Hall of Chatswood Farm, Adrian Conti of Conti Orchards, Colleen Dangerfield of VF Siciliano & Sons, Thomas Panna of Mattina Fresh, Dean Morpeth of Sharp Fruit, and Bruno Muscatello of Fresh Marketing Corp.
The new board will act as a united front with a major focus on access to Vietnam and emerging markets, freight, and marketing of Australian stonefruit internationally.
Formed in 2015, SEDA has successfully achieved stonefruit access into China, freight assistance from the International Freight Assistance Mechanism (IFAM) during the Covid-19 pandemic, and marketing priorities.
The organisation is the export and agri-political arm of Summerfruit Australia and is responsible for market access, fruit fly, labour and water, marketing, and freight. It consists of 40 growers, representing an estimated 70 per cent of Australia's stonefruit industry.
The new executive board will meet fortnightly and said it acknowledges the previous executive members for their dedication and commitment in the development of SEDA and its achievements.