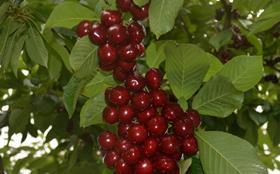 In New Zealand's major cherry growing region, Central Otago, rain damage and cold weather have contributed to a "rough" start to the 2019/20 season.
Speaking to Stuff, Tim Jones, chairman of Summerfruit New Zealand and chief executive of 45 South, said the difficult start to the season was one of the most challenging in decades.
Rain had damaged crops, cool temperatures had slowed ripening and poor picking conditions had created labour difficulties, according to Jones.
He said 45 South had picked around 100 tonnes before the New Year, a period that would see around 250 tonnes picked in a normal year.
Most of New Zealand's pre-Christmas cherries are sold domestically with the majority of mid and late-season cherries exported.
Jones said as the industry moves into mid-season harvesting, conditions were improving but he estimates New Zealand's total export volume for the season to finish on the lower end of a typical season.
'We will have a pretty good run at it now. Early-season stuff was damaged, but the mid-season varieties are looking a lot better," Jones said.
'We hope to be somewhere between 3,000 to 4,000 tonnes as an industryat least.'