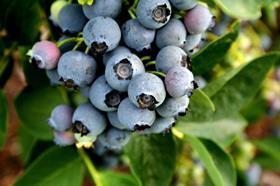 Increased supply and lower prices should lead to a surge in New Zealand blueberry sales over coming weeks, according to Blueberries New Zealand.
The peak industry body expects domestic prices to drop below NZ$3 a punnet in the lead-up to Christmas, enticing more consumers to the category.
"So far volume has been small on the domestic market, but we're now getting into the main season and higher volumes are coming through," said Blueberries New Zealand executive member and exporter representative, Craig Hall.
"Supermarket chains will be promoting blueberries this week and we'll see the impact of greater supply and lower prices between now and Christmas."
Post-Christmas, a larger quantity of New Zealand blueberries will be exported to Australia, which Hall said can affect New Zealand prices.However, he was confident consumer demand would hold firm.
"There should be plenty of opportunities for consumers to get some really good deals on blueberries from all retailers over the next four weeks so people should take advantage," Hall explained.
Blueberries New Zealand chair, Liz Te Amo, said the country's production of blueberries will ramp up significantly in the next few years, with the industry working to ensure consumer demand keeps pace with supply.
"There's multiple varieties in the ground now and that really reflects how the international markets are going and growing," Amo said. "There's been a massive upswing in consumption for blueberries – particularly with Covid-19. People are looking for the healthiest fruit and vegetables available.
"In the coming years we hope to see Kiwis eating a lot more blueberries and to improve our market access for exports to handle this increase in production."