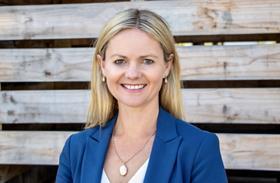 Peak industry body New Zealand Apples and Pears (NZAPI) has announced two new appointments to its associate director programme.
Bostock New Zealand's Catherine Wedd and Fern Ridge Fresh's Kurt Livingston will join the NZAPI board as associate directors in 2021.
The associate director programme was introduced in 2019 as a way for NZAPI to grow its governance and representation pool. It also provides the board's selection committee with a pipeline of aspiring directors, who have both the knowledge and training to govern a peak body.
"The programme offers successful candidates a chance to work alongside the NZAPI board and to be mentored by directors, along with receiving the relevant New Zealand Institute of Directors' training," said NZAPI chair Richard Punter.
"The apple industry has faced unprecedented challenges due to Covid-19 and the ensuing labour shortages, and there is significant pressure on the broader New Zealand food industry to innovate to remain competitive both domestically and globally. We need trained directors from all areas of the industry's value chain to be an effective and relevant governance board."
Livingston works in export sales and logistics at Fern Ridge Fresh. He joined the company after graduating Lincoln University with a degree in supply chain management and global businessfour years ago.
"Having grownupworking on the family's orchards,I've always had a passion for horticulture and love being part of such an exciting industry," Livingston explained."I'm grateful for the opportunity to be involved in the NZAPIassociate director programme, which will help to develop my leadership skills so I can contribute and add value to the New Zealandpipfruit industry.'
Wedd is the marketing and communications manager at Bostock New Zealand. She plays a leading role in marketing Bostock's New Zealand-grown apples to the world, with a particular focus on establishing premium IP apple brands in Asia and promoting the company's organic story.
"I've also been involved in many political campaigns on important issues impacting the apple industry," Wedd said. "I work for Australasia's largest organic apple producer and am very passionate about sustainability and positioning our New Zealand produce at the premium end.
"It's an exciting time to be part of the apple industry as it's growing and developing each year. I look forward to gaining governance experience and obtaining the necessary skills required to become a successful leader within our industry."
The programme's inaugural associate directors, Stuart Kilmister and Cindy Dixon, have now completed their 2020 board term.