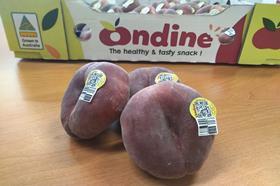 WA Farm Direct and N&A Group will launch the trademarked Ondine series of flat peach and flat nectarine varieties in the Australian market this summer.
The varieties are said to have a perfectly balanced "semi-sweet" flavour and vibrantly coloured skin, as well as a unique flat shape.
The Ondine series was developed in France by the Maillard family of ASF Edition.
"Arsene and Laurence Maillard have dedicated the last 25 years to developing new fruit varieties that satisfy rigorous selection criteria and have fostered a reputation for their products as having only the most desirable eating characteristics, as well as favourable production and marketing characteristics, thanks to these selection criteria," said Justin Shield of WA Farm Direct.
WA Farm Direct and N&A Group believe Ondine will breathe "new life" into the summerfruit category in Australia. With the unique shape and exceptional flavour of the offering set to draw new customers to the category, while also increasing purchase frequency and volume.
"Ondine is perfectly positioned to capture new customers from the young families and gourmet snacking markets; its size profile and unique flat shape makes it an ideal snack as it is easier to hold than traditional round peaches or nectarines and won't get squashed when packed in a lunchbox," Shield added. "It's exceptionally sweet flavour and unusual appearance will see Ondine becoming an in-demand ingredient in canapés and grazing platters."
Being a licensed variety, Ondine benefits from a carefully monitored and vetted production base, as well as expertly selected marketing channels. The aim is to guarantee retailers and consumers a consistently high-quality product.
Ondine production in Australia is currently centred around two main growing regions – Cobram in Victoria and the Perth Hills in Western Australia. Both regions are known for yielding high quality stonefruit, with hopes high that Ondine production will take off in Australia as it has in other parts of the world.
Around 2,500ha of Ondine flat peach and flat nectarines have been planted worldwide, with production spread across Spain, France, Italy, Greece, Chile, South Africa and Australia.
"In the European market, where Ondine has been commercially successful for several seasons, production has been rapidly scaled to meet the growing market demand. Around 800 tonnes of flat peach and 1,500 tonnes of flat nectarine were produced throughout the 2021 season," Shield said. "Ondine flat peaches and flat nectarines were also awarded the 2022 Flavour of the Year in the Saveur De L'annee, in a European consumer panel."
WA Farm Direct is the master licensee for Ondine in Australia, along with the exclusive marketer-distributor for Ondine in Western Australia and South Australia. N&A Group is the exclusive marketer of Ondine for the East Coast of Australia.
This season they estimate a crop of roughly 15 tonnes of flat peaches and 11 tonnes of flat nectarines (Class 1 fruit) will be available for the 2021/22 launch, with fruit to be supplied from the two production bases.
Ondine flat peaches and flat nectarines will be available from mid-December through to March at selected retailers.