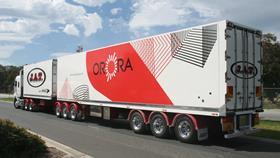 Customer's of Australian packaging firm Orora are set to benefit as a result of its strategic partnership with Australia's largest refrigerated logistics producer AHG, announced on 19 October.
While Orora will continue its focus on producing corrugated cartons that are cost-effective and custom-made, the partnership will now allow it to offer logistics and cold stores to its customers.
AHG operates across Australia, with its transport network including Rand, Harris, Scott's Refrigerated and JAT.
"Orora strives to be a customer-led provider of innovative packaging solutions, and this partnership with AHG is a significant step in that journey," Nigel Garrard, Orora MD and CEO said in a company statement. "Orora and AHG can now offer our fruit and product customers an end-to-end packaging solution for their produce, from carton to market in pristine condition."
Orora was established in 2013 as a result of the Amcor demerger, with operations across North America and Australasia.