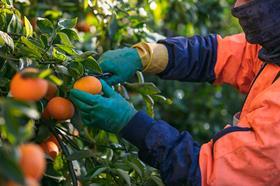 Australia's horticulture industry has warned of the impact the coronavirus (Covid-19) pandemic could have on fruit and vegetable prices nationally, as current restrictions prohibit cross-border travel, leaving seasonal workers that rely on moving between states in limbo.
A parliamentary submission led by the Australian Fresh Produce Alliance (AFPA) has indicated up to 127,900 jobs are at risk across the economy.
Modelling commissioned by the AFPA and undertaken by Deloitte Access Economics demonstrates that without the Working Holiday Maker visa holders the industry is reliant on, the industry could lose up to half of its total production, valued at A$6.3bn, which in turn could lead to a 60 per cent price increase in the cost of fruit and vegetables to Australian consumers.
Deloitte's employment figures account for harvest worker roles, and the impact that would have on other sectors such as foodservice, retail and transport and logistics.
According to a 2019 report published by Agrifutures Australia, titled 'Agriculture – A $100bn Sector By 2030', demand for fresh vegetables, fruits and nuts are key areas of growth that could propel the industry's value to reach A$14.5bn by the end of the decade (2029-30).
However, it highlighted the need to shift from a labour intensive to a highly automated and technologically advanced sector as a critical component to increasing productivity and profitability.
Fruitnet acknowledges the report was published pre-Covid-19, and as such the industry situation has changed, however the pandemic has served to highlight the challenges of relying on a labour intensive workforce.
Incentives encouraged
The AFPA has called for a special one-off A$1,200 payment funded by the federal government to encourage Australians from metropolitan areas to move rural and work on farms for harvest.
Earlier this week federal agriculture minister David Littleproud caused a stir suggesting Australians were averse to picking fruit, implying the government's increase of Newstart and JobKeeper payments had made it even harder to find willing workers.
"Even when our social security payment for the dole was A$550 a fortnight, we couldn't get people off the couch to go and pick fruit,' Littleproud told the ABC.
'But Australians have not wanted to do it, and unless they're going to do it very soon, particularly when we've doubled Newstart rate and in fact we've got JobKeeper, it's a very hard incentive to get someone off the couch to travel a couple of thousand kilometres to pick fruit for six weeks, then turn around and come back.'
The proposal stipulates the A$1,200 payment to harvest workers would only be paid after they complete three months of work. It has also called for a A$1,200 induction support payment for businesses who hire workers under this arrangement, also paid after three months.
Approximately 80 per cent of Australia's harvest workforce is sourced through the Working Holiday Maker programme. AFPA said 4,000 fewer Seasonal Worker Programme visas will be issued this year, with the number of Working Holiday Maker visas down by 40 per cent.
In its submission, AFPA said data collected from its member companies, other growers and labour hire companies indicated from March 2020 to June 2020 the companies received 23,000 inquiries for work, with 8 per cent of those made by Australian citizens and permanent residents.
The industry body said the federal government needed to expand the Seasonal Worker Programme and Pacific Labour Scheme from 12,000 to 15,000 per year, to assist with harvest needs.
An ABC report has indicated the federal government appears to be considering this, with it set to allow up to 200 fruit pickers into the NT from Vanuatu, which has no recorded cases of Covid-19, as part of a trial programme.
Covid-19 border closures prompted thousands of backpackers to leave Australia, with those remaining facing the challenge of moving state-to-state, as a second wave continues to grip Australia's east coast.
Mango industry watching intently
With approximately two months until the Northern Territory mango harvest sets in, all eyes are on how the situation in Queensland, New South Wales and Victoria is unfolding.
Philippa Johnson, office manager for Berry Creek Packing, a mango packing company that works with a number of growers in the NT, said they were keeping abreast of the situation.
At season's peak, Berry Creek Packing will employ between 70-80 people in its packing shed in Berry Springs, with many more in the orchards picking the fruit.
Johnson indicated a high proportion of its workforce would be comprised of people currently harvesting citrus and avocados in Queensland.
"At this point, there are no problems for us. It is a fluid situation though, which means it can change quickly. If the border between Queensland and the NT closes, that could impact us," said Johnson.
"In that situation, people would face a A$2,500 fee for mandatory hotel isolation, and that would be prohibitive," she added.
Her advice to people currently working the harvests in Queensland is 'don't wait'.
"If you're out working in Queensland packing avocado and citrus, and the work finishes up, don't wait to come to the NT – come as soon as you can, so if the border does close, you won't be stuck," said Johnson.
Reprieve for NSW citrus harvest
It has been a tumultuous couple of weeks for Australia's citrus industry, which is currently approaching peak harvest, with growers on the border of New South Wales and Victoria heavily impacted.
The border between the two states was closedon July 21 in order to prevent further spread of Covid-19, with exemptions made and permits provided for essential services. While horticulture was deemed essential work, non-citizens were unable to apply for exemption. As highlighted above, much of the harvest workforce are from overseas and were therefore excluded altogether.
Peak industry body Citrus Australia leapt into action, calling upon the NSW government to overturn the ban, with growers facing losses of up to A$1.5m every day.
The NSW government announced overnight (July 30) it would overturn the ban on seasonal workers by providing a 'border zone resident permit'. The permit will be available to seasonal workers that can prove they're living in the defined NSW and Victoria border zone, including Mildura. Workers must also declare they have not travelled into Victoria, outside of the border zone, in the last 14-days.
The decision was welcomed by Citrus Australia chief executive, Nathan Hancock. "The [original] decision [to leave out seasonal workers] made little sense, and although a logical conclusion was finally reached, growers and workers were left in limbo for 10 days," he said.
"The conclusion was reached through significant work by many parties and could have been reached earlier if not for delays caused by NSW Health."
Hancock has urged the government to consult with relevant communities and industries before making such drastic changes in future.
Citrus Australia said it was appreciative of the work of NSW agriculture minister Adam Marshall and the NSW Department of Primary Industries staff, and for the support of deputy prime minister Michael McCormack and federal agriculture minister David Littleproud, federal member for Mallee Anne Webster and the independent member for Mildura, Ali Cupper.
With harvest back on track, Citrus Australia said its international customers can be assured export orders would not be affected.