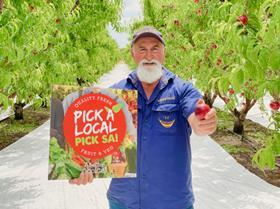 The first boxes of South Australian-grown nectarines and peaches have arrived on the South Australian Produce Market floor marking the start of the state's stonefruit season.
The fruit is set to be promoted by the Pick a Local, Pick SA! a Market Fresh SA campaign in independent retailers across the state and campaign manager Penny Reidy, encouraged consumers to seek out the local fruit.
"A great way for the community to support our South Australian stonefruit growers is through the simple act of purchasing South Australian grown nectarines, peaches and apricots when they can this season," said Reidy.
"We're excited about the taste and flavour of the South Australian new season available. Our growers have had a tough year with Covid, fruit fly and hailstorms – we would love the community to support our growers and pick up some stone fruits through their Pick a Loca,l Pick SA! greengrocer."
Summerfruit SA chair, Jason Size, said consumers should expect to see volumes start to build.
"South Australian-grown stonefruits are now available with supplies increasing over the next few weeks just in time for the warmer weather. The early season first picks of white peaches and nectarines are tasting fantastic and full of flavour," said Size.