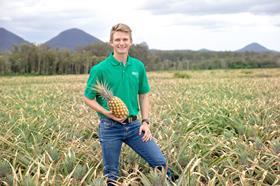 Australia's largest pineapple producer, Piñata Farms, has appointed agribusiness graduate Tom Healy to the position of pineapple sales and supply manager.
Healy, 24, will manage the year round sales and supply of Pinata pineapples to domestic supermarket customers nationally as well as central markets across the country.
His responsibilities will include working with growers to plan and forecast the supply of high-quality pineapples, liaising with customers to understand their needs and providing supply updates as required. Healy will also be responsible for delivering Piñata pineapples to customers in specification, on time, in full and at the right price, 365 days of the year.
Healy, who is the son of Australian cricket great Ian Healy, has a Bachelor of Agricultural Business from the University of Queensland.
Speaking on his new appointment, Healy said; 'I discovered a real passion for Australian agriculture throughout my studies and I am now excited to see what sort of career I can create in the fast-paced environment of fresh produce."
As part of his final assessment at University, Healy collaborated with Piñata Farms on a project examining pineapple shell colour and how it influenced consumer buying behaviour and decision making.
"Forecasting the volume of fruit to market ahead of time is a particularly challenging part of my role," explained Healy. "You would think pines would be a rather easy crop to forecast because, in theory, every plant that goes into the ground should produce one piece of fruit in two years. Anything could happen in that time - generally weather-related issues. You've got to be flexible to react quickly, re-plan and re-execute.'
'I thank the Scurr family for this opportunity and I'm excited to continue on the great work done before me."