Pride of Prima is a new offering aiming to help jumpstart the apricot category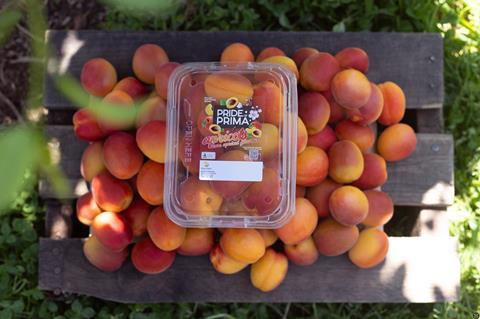 Prima Fresh Fruit has launched Pride of Prima, a new apricot brand created to give consumers a consistent, quality experience.
Newer European-bred apricot varieties will be marketed under the brand with Wonder Cot and Magic Cot the first to hit the shelves while other plantings mature.
National sales manager Jackson Bennett said the brand emerged from a desire to revitalise the apricot category and create a point of difference for Prima Fresh's fruit. He said managing director Gerard Alampi has been heavily investing in new varieties over the past five years to set the brand up to succeed.
"We've seen the apricot category stagnate in Australia over the last ten to 15 years, particularly with varietal development. Consumers weren't getting the eating experience they were used to and we've had a lot of marking on shelf," said Bennett.
"We wanted to create a brand that could give consumers an experience that they would be happy to come back for. We made sure to choose the correct varieties for the brand with high blush and strong flavour profiles.
"We've also got new varieties coming on that will really help enhance the brand over the next four to five years."
Pride of Prima will be retailed in 500gm clamshells with a sales window running from mid-November into February.
Bennett said the transparent packaging and branding will allow consumers to see the fruit and pick out the product with ease, while a QR code will help tell the Prima Fresh story.
"We wanted the brand to stem from what we've achieved at Prima Fresh and reflect the passion that everyone puts into the product, especially Gerard," said Bennett.
"We used a clear label, so you could see as much of the fruit as possible because we really believe the fruit does the talking. We're really excited to give people a new, exciting apricot experience."