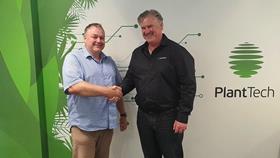 Radfords and PlantTech have announced Radfords has become a founding shareholder of the PlantTech Research Institute.
PlantTech is a New Zealand-based research and development organisation specialising in addressing scientific challenges in New Zealand's horticulture sector with artificial intelligence (AI) solutions.
Radfords will join the eight other founding shareholders including Zespri, Bluelab, Robotics Plus, Trimax, Cucumber, Eurofins, The University of Waikato and Priority One.
Adam Cuming, chief executive of Radfords, said by partnering with PlantTech, Radfords would gain access to specialised team of AI and data scientists and together they could accelerate AI and machine learning in the horticulture space.
Radfords' software already has applications across the fresh produce value chain from field to market and this new partnership will add a further boost.
"To deliver a change in reducing produce loss and improving produce performance across the value chain we will work with PlantTech to accelerate our knowledge with the aim of creating data-based AI insight and decision tools for our customers," Cuming said.
"By consuming data from various sources to supplement our own data highway, we can use AI models to recommend actions in the field, and help optimise packhouse inventory to market, improving the 'moment of taste' for the consumer."
Mark Begbie, chief executive of PlantTech, reflected Cuming's excitement about the partnership and what Radfords has to offer.
"Radfords brings a wealth of experience spanning the whole supply chain and across multiple fresh produce sectors," Begbie said.
"Their knowledge and insight, together with their routes to market, mark a very exciting broadening of PlantTech's reach and potential."