Prospr is a multi-use modular vehicle platform that automates a variety of tree crop tasks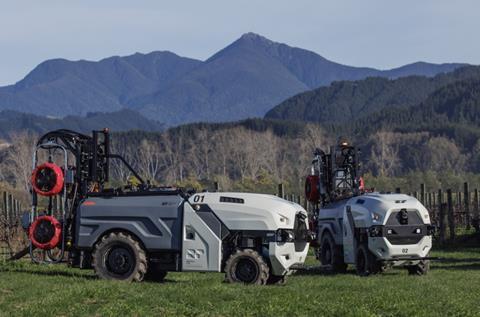 New Zealand-based agritech company Robotics Plus has launched Prospr, an autonomous, multi-use, hybrid vehicle designed to carry out a variety of orchard and vineyard crop tasks more efficiently and sustainably while reducing reliance on labor.
Prospr accommodates multiple swappable tools being developed, including newly released tower sprayers for grapes, apples, or tree crops. The right tool for the job is attached to the vehicle depending on the day's work, and multiple Prosprs can collaborate in a fleet. The autonomous vehicle uses a combination of perception systems to sense the environment, enabling data-driven insights.
Robotics Plus will showcase Prospr for the first time following its commercial launch at FIRA 2023, a California-based event dedicated to autonomous agriculture and agricultural robotics solutions.
Steve Saunders, co-founder and chief executive at Robotics Plus said the agriculture industry faces unprecedented challenges as this generation works to produce more food sustainably while reducing emissions and supplying at a lower cost.
"Prospr is a robust autonomous vehicle, with all-day running, that adapts to the jobs growers need to do while reducing emissions, inputs and reliance on increasingly hard-to-find machine operators. We've focused on utilisation and flexibility with a unique modular architecture, allowing different tools for various crop types and applications year-round to maximise return on investment," said Saunders.
Alistair Scarfe, co-founder and chief engineering officer at Robotics Plus said the company had made multiple technology advances for Prospr.
"(These include) a remodelled platform for tools, new spraying attachments, and a new user interface to aid management and planning. We've also improved machine connectivity, control, safety and localisation," said Scarfe.
"Prospr has its own wireless network, keeping vehicles online and enabling software updates for new features. We're really proud to release another world-leading robotic innovation to market, thanks to the expertise of our outstanding team and partners."
Key features of the new vehicle include its hybrid power and drive system and its small footprint and modular design.
"We've put our hybrid power and drive system through its paces and can achieve over 70 per cent reduction in fuel consumption when compared to traditional diesel tractors doing the same job," said Scarfe.
Saunders added: "We've delivered a highly adaptable modular vehicle and are partnering with industry leaders to deliver various technologies for our tools.
"The first of these partnerships is with Croplands, a leader in sprayer technology. Our ongoing partnership with Yamaha Motor Co is helping us refine and productise our vehicle for scale. This significantly increases the robustness and support for Propsr in demanding and ever-changing agricultural environments."