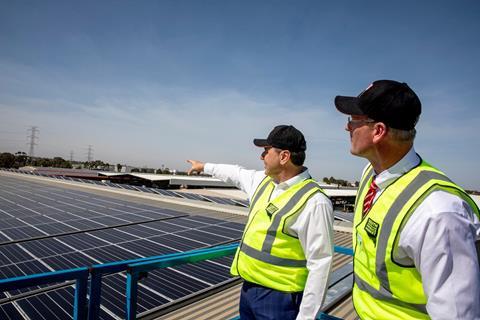 The South Australian Produce Market (SAPML) has declared its intent on becoming more environmentally sustainable, launching its new energy microgrid project.
The A$10.5m microgrid will supply SAPML's Pooraka site with all of its energy requirements, as well as being able to export power to the National Electricity Market.
Autonomous Energy was awarded the contract to build a microgrid, which comprises 6,412 solar panels, 25 Tesla powerpack batteries, and the latest technologically advanced high voltage switch room and genset.
The microgrid is expected to cut annual greenhouse gas emissions by 32 per cent, as demand on South Australia's electricity grid will reduce. At full capacity, the system is capable of powering approximately 4,500 homes.
Chief executive of SAPML, Angelo Demasi, said the project would not have been possible without the A$2.5M energy productivity implementation grant and support of the South Australian Government.
"We thank the South Australian Government for the funding and support that has allowed the implementation of a ground-breaking environmentally sustainable energy solution," said Demasi.
"This technology will enable SA Produce Market growers and wholesalers to continue to provide affordable fresh produce to local consumers who purchase through independent retailers.
"This innovative solution is a win-win for both consumers and the environment, leading the way for other South Australian businesses," he added.